I have a small windowless office. Over the last few months it became more of a place to put things I didn't want to deal with than a proper space to work in, so yesterday I made a lot of coffee and locked myself inside not quite with the goal of organizing, really, but in an attempt to clear out some of the mess and make it a more habitable space. I had aspirations of coziness. I put on my "Early Jazz" Pandora station for soundtrack purposes. It could still use some work and I need to go through all of my files and things, but I think as far as overall habitable/cozy I was fairly successful.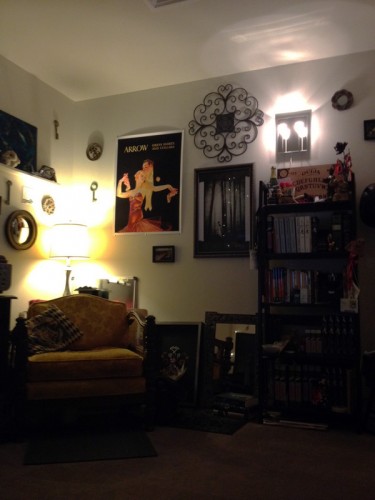 The floor was covered in piles of stuff, I really should have taken a "before" photo. Lights are both new to this room, I switched out the floor lamp that had been too bright for a lamp and a mirrored sconce and while it's not hugely bright in here I'm usually at the computer anyway so I think it's sufficient. It makes it more atmospheric. Almost everything on the walls was put up yesterday and there are still a few spots that need something but it's a vast improvement.
The desk side of the room isn't quite as cohesive yet, there's also an oddly shaped nook behind it that really seems to want a tree or something. Maybe when I have time I'll make a paper tree to loom in the corner.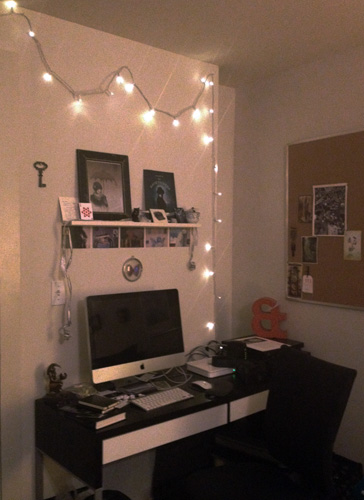 So I am typing this from my much cozier yet still small and windowless office. Also, I think because it is windowless it stays toasty warm, I think it also gets heat from the hallway. Methinks I will be spending a lot of time in here while I'm at home this winter.
Also, this made me giggle delightedly: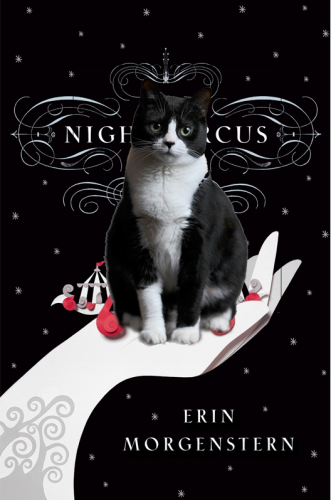 Roswell in the circus! On the circus? Either way, I love it and you can click it and go read all the splendid stories that Kyle Cassidy's blog readers came up with, circuses and clockwork and a truly splendid cat.
Am in housecleaning mode, both with the apartment and in my head. Getting ready to go out on my January mini-tour next week. This afternoon I took a walk in the snow and sunshine at the same time.
Now I am going to drink green tea and think thoughtful thoughts and possibly read.