I am quite frequently asked about books. Usually about books I like or that I'd recommend and I've been meaning to do book posts for the blog for ages, so December is going to have lots of them and this is the first one, featuring a tower of books.
This is not an ideal bookshelf or an all time favorites or any sort of thoughtfully curated list. This is what happened when I wandered around my apartment searching my bookshelves for the books that seemed like they should be in this pile to be blog-shared.
Caveats: there is nothing in this pile that I read in 2012, that post is separate and forthcoming (a preview: I fell in really deep booklove with Kate Atkinson this year). There are a lot of old favorites here, one of them is so old it has my signature inked inside the cover to distinguish it from when I first read it in high school, several have been read many times over. I purposefully did not choose multiple titles by single authors (though Smoke & Mirrors, Fingersmith & all the other Amphigoreys tried really hard to get in on the book tower action).
Also, I'm not going to go on about why I love every book in this pile. For one thing, this post would get far too long, and for another, booklove is a personal sort of thing and it doesn't always fall easily into short sentences or even words. I hugged my copy of Einstein's Dreams when I pulled it off the shelf, that's probably all you need to know.
So here is Erin's Tower of Books She Loves & Hopes You Might, Too. Presented in easiest-to-stack order and followed by a list of titles & authors.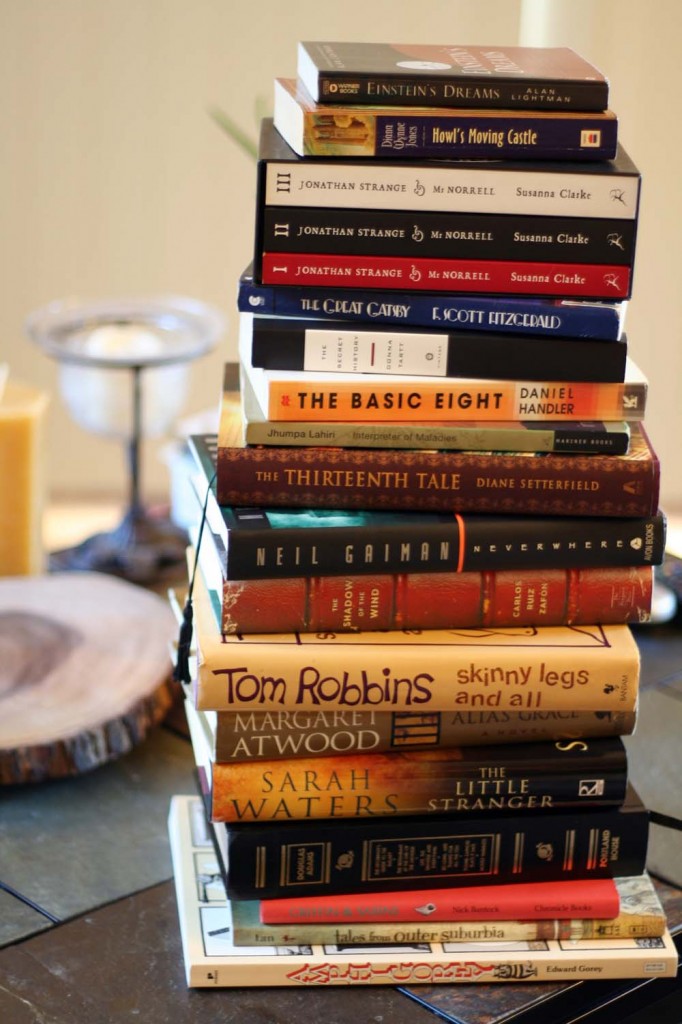 From top to bottom:
Einstein's Dreams by Alan Lightman
Howl's Moving Castle by Diana Wynne Jones
Jonathan Strange & Mr Norrell by Susanna Clarke
The Great Gatsby by F. Scott Fitzgerald
The Secret History by Donna Tartt
The Basic Eight by Daniel Handler
Interpreter of Maladies by Jhumpa Lahiri
The Thirteenth Tale by Diane Setterfield
Neverwhere by Neil Gaiman
The Shadow of the Wind by Carlos Ruiz Zafon
Skinny Legs and All by Tom Robbins
Alias Grace by Margaret Atwood
The Litte Stranger by Sarah Waters
The Hitchhiker's Guide to the Galaxy by Douglas Adams
Griffin & Sabine by Nick Bantock
Tales From Outer Suburbia by Shaun Tan
Amphigorey by Edward Gorey