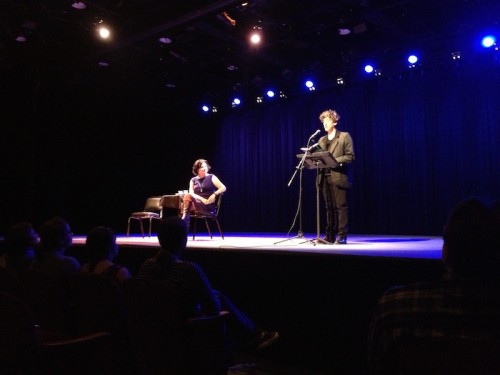 Last week I got to wear a blue (blue! not black!) dress and interview Neil Gaiman and talk about The Ocean at the End of the Lane and admit in front of hundreds of people that I've never seen Doctor Who.
(I know. I'm sorry.)
I had planned on doing some sort of post-event blog post but then afterwards I really wasn't sure what to say.
I had a lot of fun and though I was supremely nervous it went really well and everyone including Neil seemed very pleased with everything. He's remarkably easy to interview considering he kept answering questions before I even asked them. Perhaps he's clairvoyant. I met him for the very first time about an hour before we were on stage so the whole thing felt remarkably surreal.
There is an excellent writeup of the evening over on Tor.com (though I think a few of the quotes about whether or not we die may be misattributed).
I had many more questions than we had time for, though my main goal was to talk about things that maybe weren't being talked about at every single stop on his tour, and we got tiny frogs in teacups and BPAL and Mythic Boy Jesus so I'd call that a win.
One of the last audience questions posed to Neil was "Who is your favourite living writer?" and of course it was a longer list than just one, and included a few recently no longer living writers as well, like Iain Banks and Diana Wynne Jones.
And I thought in that moment how incredibly lucky I was to be sitting there, when I will never get the opportunity to meet the other gigantic influence on my writer-brain I mentioned in my babbling introduction, the incomparable Douglas Adams.
There is a sentiment I am concerned got a bit lost in that babbling during that introduction (I was nervous), which is this:
I would not be the writer I am today without Neil Gaiman.
I'm not sure I would even be a writer at all without him.
I discovered his work at the perfect time for my developing story-brain and I am eternally grateful for that.
I'm not sure the gratitude got properly expressed then, so here's an extra Thank You, Neil for good measure:
Thank you, Neil.
For your work and for asking me to do this event and for being a real live lovely person.
(Also I am sorry that I inadvertently stole the title of that Batman thing, but The Night Circus is indeed a really good title.)