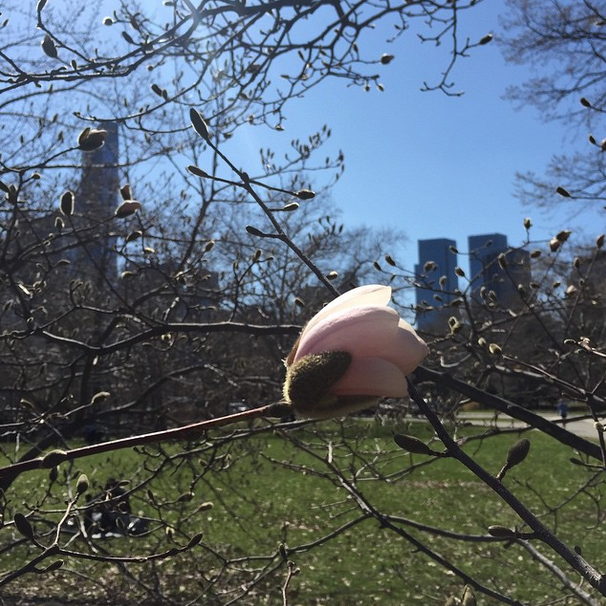 My apologies for the lack of blog updates. I haven't had much to update about, I have been hibernating and writing and re-writing. Apparently writing a book entirely wrong the first time is just a thing I do. I think it is back on track now.
Months ago I said aloud (Twitter counts as aloud) that I wanted to have a draft finished by spring and here we are in spring and well… not so much.
But I have made a lot of progress. More than I have in a long time. Maybe I should aim for progress and not use the f-word. Art is never finished and all that. Still working. Still writing and probably re-writing. Not quite book-shaped but it's getting there. It's still surprising me, which is fun.
New York is turning blossomy and proper springtime-feeling when it's not raining. I hope it stays this way for a while and doesn't rush headlong into summer.
On May 1st & 2nd I will be in South Bend, Indiana for One Book, One Michiana with the St. Joseph County Public Library. There will be a reading/q&a/signing, a tiny story workshop & a circusy soirée (oh, how I love the word soirée). Detailed schedule can be found over here.
Given what's been going on in Indiana I thought about cancelling but considering how much planning and preparation people have put into this event that didn't seem right. I will be making donations to freedomindiana.org and the Human Rights Campaign with my speaking fee.
This is, at the moment, my only scheduled appearance for 2015. I should really figure out what I'm going to wear since I've been living in my yoga pants lately.
I'm going to attempt to blog more frequently over the spring/summer. I am still Instagraming & Tumlbring & I may be on Twitter periodically but mostly I will be writing (and re-writing) so the majority of my words need to be focused there. If there is news I can share, as always, I will share it but most of the time it seems things are either not shareable or not news. Maybe I'll post ice cream recipes and things like that.