I am mostly in a fog of edits and adjustments on the novel, trying to get it in the best shape possible before it goes off to a handful of very lovely beta readers next week.
I've noticed I tend to read less when I'm busy with writing things, so I'm attempting to rectify that. This is the reading pile for October: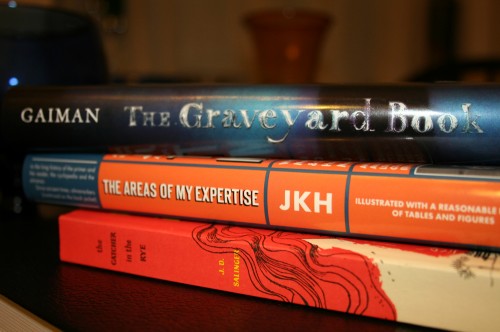 I've already started Neil's The Graveyard Book and I'm enjoying it so far. Am attempting not to read it too quickly because I do love all things Neil.
I picked up John Hodgman's The Areas of My Expertise because I'd been meaning to check it out for ages and it showed up in the Bargain section of Amazon. I've only read the cover so far but it's a wordy cover, and kind of hysterical.
And I've been meaning to re-read The Catcher in the Rye for years and I'm not sure what happened to my old copy. I'm curious to see what I think of it now having not read it since high school. It did play a large part in earning me a 5 on the English AP exam, though, so I will always have a certain fondess for it.
In other news: kittens are napping, it's finally full-blown autumn (yay!), I made armwarmers out of an old pair of stripey socks and I have BPAL from last year (pumpkin patch #5: Pumpkin with benzoin, bourbon vanilla, lemon peel, neroli, blood orange, and red ginger) in my oil burner.