Yesterday I wasn't sure what I wanted to work on and couldn't quite focus enough to write. So I pulled out my big box of random supplies and found a bunch of polymer clay I'd pretty much forgotten about.
And I made a sheep.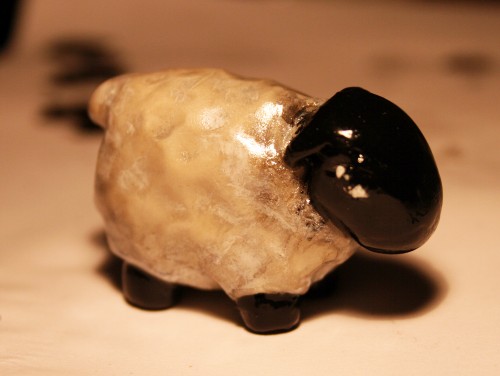 He's a bit over an inch tall and about 2 inches from head to fluffy tail. He is more or less the same somewhat shifty-eyed sheep from Secret Agent Sheep, except with stubbier legs so he would stand up better. He's made of polymer clay that was detailed in acrylic and glazed. I haven't made anything with polymer clay in years so I'm pretty impressed with myself.
I kind of love him. But I might put him up for sale on Etsy. I need to see how durable he is when he's completely dry.
Also yesterday I read Laurie Halse Anderson's new book, Wintergirls, in its entirety. Because I picked it up to read the first page and could not put it down. It's heavy and somewhat draining but absolutely beautifully written. I really kind of wish I'd been able to read her books as a teenager.
Today I am chipping away at my list of book edits and compiling files of literary agent information. It is probably more fun than it sounds, because I have tea and a small clay sheep looking at me sideways.